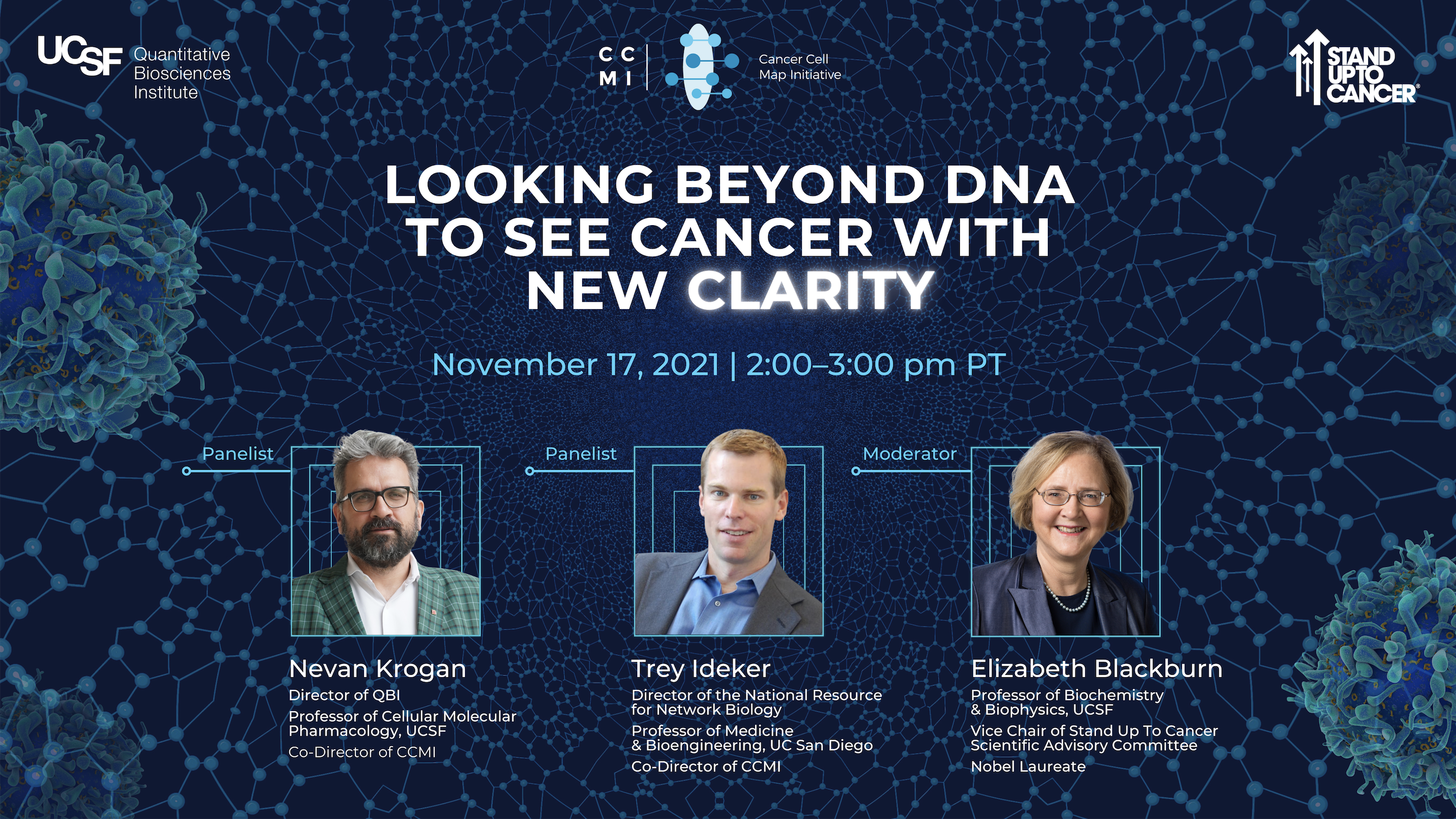 The Quantitative Biosciences Institute (QBI) & Stand Up To Cancer present "Looking Beyond DNA to See Cancer with New Clarity," a panel discussion on November 17, 2021 at 2PM PT.
Moderated by Nobel laureate Elizabeth Blackburn, the panel will feature a trio of papers recently published in Science by researchers at UC San Francisco and UC San Diego as part of the Cancer Cell Map Initiative (CCMI). This research, led by Nevan Krogan and Trey Ideker, looks at breast cancer and cancers of the head & neck through the lens of proteins by mapping out hundreds of mutations involved in the cancers and their effect on protein activity. This innovative approach to cancer research allowed them to identify new, less harmful precision cancer treatments.
This panel discussion will highlight this work and the innovative approaches to cancer research the CCMI has been able to achieve through collaboration.

Panelists:
Nevan Krogan: Director of QBI | Professor of Cellular Molecular Pharmacology, UCSF | Co-Director of CCMI
Trey Ideker: Director of the National Resource for Network Biology | Professor of Medicine & Bioengineering, UC San Diego | Co-Director of CCMI
Moderator:
Elizabeth Blackburn: Professor of Biochemistry & Biophysics, UCSF | Vice Chair of Stand Up To Cancer Scientific Advisory Committee | Nobel Laureate

Watch Live on YouTube: https://youtu.be/NWdpk_4Sga0